Rest Assured Your Equipment is Clean and Fresh
If you have ever played sports or had a child that played sports, you know just how damp, smelly, and unpleasant the equipment can get after a hard few games of play. In fact, this smell and dirtiness is the main reason some people won't consider purchasing used equipment.
Don't let worry about what a previous owner has left behind keep you from purchasing used or consignment equipment. Every piece of equipment is run through the Sani-Sport sanitizing machine to ensure it is fresh, clean, and odor-free
Let our family owned and operated company help you enjoy your love of sports conveniently and affordably with a range of equipment and services.
Come by and explore our wide variety of new, used, and consignment sports equipment.
Sanitized before you buy
You can browse through and purchase used equipment with absolute confidence knowing that every piece is fully sanitized before it goes out on the floor so all odors, dirt, and bacteria are removed.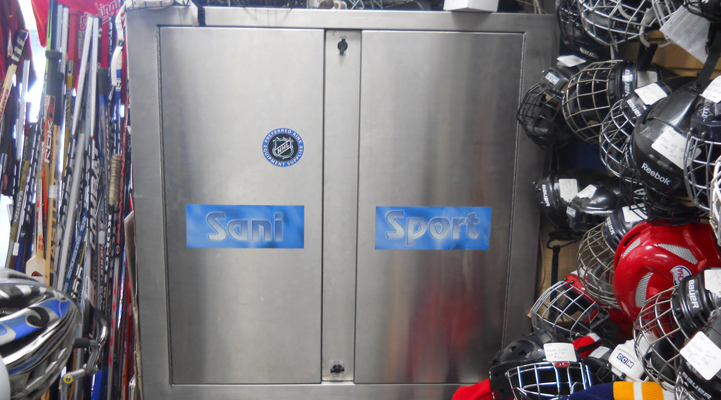 Experience our Staph Buster All-Natural Sanitized Sports Equipment Process
• Each piece is carefully inspected to ensure integrity
• 1 million bacteria removed, including Staph and MRSA
• The system is endorsed by the military, USA Hockey, and NHL, and NFL
Sani Sport is the Most Widely Used Bacteria Reduction System in Sports World
If your own equipment is smelling a bit ripe, don't just zip the bag and tuck it into your closet hoping you can forget about it. Bring it in and use our Sani-Sport machine to remove the bacteria and odor for a fresher, healthier clean. We are Staph-Busters!